Online Director's Dialogue: agenda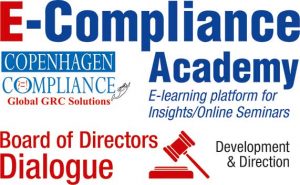 The Boards' Drives and Discourse on Development, Direction & Decisions
We look forward to the pleasure of having you with us at a presentation and fireside chat for a series of unique virtual sessions – the to update participants on the many roles, responsibilities, and obligations to enhance the success of the members of the Board of directors.
The Directors' Dialogue for development and direction is an online system of chain a Good Governance, Risk Management, Compliance (GRC) and IT Security security fireside chats, that provides and presents a chain of online events that will give the participants a wide range of GRC and IT Board's accountability, proportionality and transparency line of order within several Board issues from some of our most experienced and eminent global Board Leaders.
The GRC and IT security-focused courses run on the procession and for board members and potential board members who aspire and get inspiration to learn from the current idiosyncrasies.
The online session will be held on the 16th of November 2020 at 14:30 CET.
Agenda:
The theme is: Reporting on GDPR Compliance to the Board of Directors

14:30 Introduction the theme of the Seminar and speakers
14:40 Boards of Directors and GDPR: Dialogues on privacy obligations
Prof Hernan Huwyler, CPA, MBA, Head of Compliance Strategy, Danske Bank
15:20 New issues after the invalidation of US-EU Privacy Shield
USA – EU Data Transfer
Lorenza Villa, Lawyer, Formatore Privacy GDPR per PMI, Diritto Internazionale e
Commerciale
16:00 Addressing the Data- Protection & Privacy Exposure and Complexity
Assess Compliance Progress for Presentations to The Board
16:30 Q&A. How we can fulfill the board of directors' requirements
Moderator: Lay Olga Maitland, David Dalka.

In addition to the above topics, we will cover the following specifics on global Data Privacy and Data Protection issues

Recommendations to monitor of the GDPR program from the Board
Assessment of the data, privacy, and compliance governance
Best practices for reducing or accepting risks in meeting GDPR requirements
Topics to ensure privacy compliance by the data protection officer and other senior
managers
Reporting request for indicators on subject access requests and data impact
assessments
Common areas of improvement in the data breach protocol
Reports to the Board for monitoring GDPR compliance
Evaluation of the need for an Information Governance Committee
Execution of in the privacy program, incidents, KPI, key risks overview
New issues after the invalidation of US EU Privacy Shield
Action plans for certifications, changes in processors, internal audit
New privacy risks /e.g. Max Schrems activism)
REGISTER HERE