Our Governance, Risk Management, Compliance and IT Security Certification e-learning Seminars
Our eLearning seminars have an aim at giving the participants' implementation, execution and monitoring guidance on GRC, Data Protection and Privacy and IT and Cybersecurity issues.


Most of our e-Learning certification seminars are divided into Foundation, Officer, Director/Practitioner seminars. The Foundation course goes through the step by step implantation, execution and monitoring components with the regulatory framework. The Officer seminar focuses on the functions, role and responsibilities of the e.g. CxO and the related and associated functions, roles and responsibilities in the organisation. The Director/Practitioner courses focus on Culture, Business Values customer engagement, business performance, the board of directors and management accountability etc. that clarify the impact these issues has on the particular GRC and IT security component, framework and platforms.

Please note that unlike most courses, you will not be monitored online through your webcam to protect your privacy. However, there is a remote calculation on the time spent to go through the entire presentation. The time spent will be valuable when giving the exam, and that will be explained at a later stage.

At your leisure, you can go through the e-Learning seminar presentation and the notes and comments for each slide and a spoken introduction for each chapter.

Typically the course contains approximately 150+ slides and 10-15 chapters.

The validation of all our e-Learning certification seminars is two years. After that, you can take an online refresher course to update the certification
E-Compliance Academy is the online training and certification module for the courses, seminars, masterclass, and workshops provided by The EUGDPR Institute, The Information-Security Institute and Copenhagen Compliance® Group. We help individuals' associations and organisations to comply with the new era in Governance, Risk Management, Compliance, IT- and Cybersecurity, Data Protection, Privacy, GDPR, CCPA, CSR, ESG and related Regulation, Mandates and Directives.

Multiple global compliance components incorporate significant measures for clarifying and enabling organisation that offer goods and services to avoid fraud, abuse, discrimination, and other practices that disrupt operations and put the organisation or company at risk. The E-Compliance Academy's online seminars, masterclasses, workshops etc. support your employees, managers, and the board of directors to comply, do their jobs well, keep stakeholders happy, avoid duplication of efforts and reach their career goals.

Since 2005 The Copenhagen Compliance Group has championed GRC issues, later IT- and Cybersecurity and now we have extensive expertise in protecting data, defending privacy, risk management, database design, digitisation, and data processing and complying with complex regulations, to provide the participants to develop the rights set of skills.

Data Protection, Data Privacy, Governance, Risk, Compliance, and IT Governance issues are applicable no matter where in the world you are located.


Together with our global partners, we offer useful, helpful, and practical advice based on our global compliance regulations. As a one-stop-shop, we can guide & help you to focus on your core business while we efficiently prepare your staff with the knowledge on the new implications to implement the GRC, GDPR, IT and Cybersecurity mandates.

E-Compliance Academy is part of the Copenhagen Compliance Group® is the global GRC, Data Protection, Data Privacy, Governance, Risk Management, Compliance, CSR, BFC, and IT Security think tank. Also, we focus on training and certification, both for individuals, professionals, and companies. As a privately held professional services firm, the mission is the advancement of the corporate ability to govern across the borders, sector, geography, and constituency. The primary aim is to help professionals, companies, and individuals achieve integrated Data Privacy, Data Protection, GRC management that unlocks the Organization automation, digitisation, ethics, cultures and value by optimising Data Privacy, Data Protection, GRC issues to IT-Security & automation thru templates, roadmaps, & frameworks.

If you think compliance is expensive, try non-compliance
Together we provide global end-to-end frameworks and platform, with comprehensive & proven guidance based on; giving priority to transparency, accountability and oversight issues. Our focus is on Intelligence, Internal Controls, Audit, CSR, Compliance & Policy Management, IT-Governance, Sustainability Management, IT &- Cyber Security Issues.

Together with our associates, franchisee and partners, we have the dedicated resources for training and certification, advisory, consultancy and research in GRC, Data Protection, Data Privacy, Good Governance, Risk Management and Compliance issues involving corporations, universities and business schools and organisations on four continents.
For details see: www.e-compliance.academy www.copenhagencompliance.com, www.eugdpr.institute or contact info@eugdpr.institute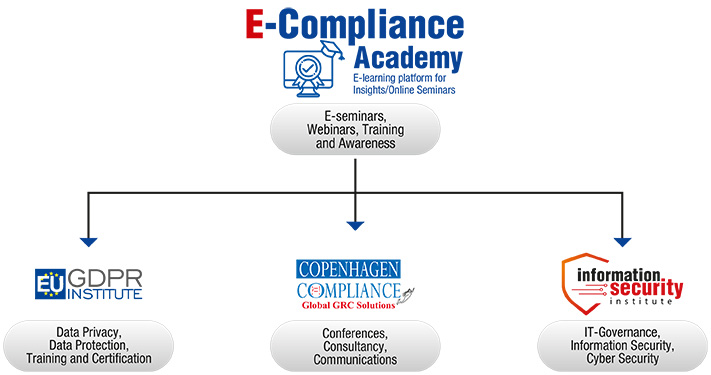 SPECIAL 2020 OFFER!
Each single user license for Euro 290,00 excl. VAT per module/ Or Euro 500,00 excl. VAT for two modules/ Or Euro 690,00 excl. VAT for any three e-learning modules.