Data- Privacy, Protection and IT Security
– SIGN UP FOR FREE
---
Our GDPR Reboot series start on the 10th June 2020 at 14:30-17:00 CET.
Follow us and be updated on Data- Privacy, Protection and IT Security with an online event .
Who should register?
This seminar is tailored for DPO, Chief Information Officers, IT Managers, Accountants, Lawyers, Data and IT-Technicians, Security System Analysts, employee involved in GDPR/CCPA teams to keep data secure.
Course Content
How to keep your information private and secure is both important and necessary. Spam, hacking and other cybercriminal activities have a field trip collecting ransom from vulnerable organisations. We will discuss the best ways to secure your personal information and data to keep your stakeholders free of mental stress for losing IP or anxiety for reputation damage for cyber breaches and IT shutdowns.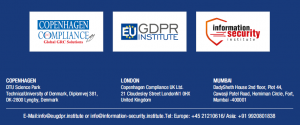 You have received this e-mailer, as you have either signed up for The Copenhagen Compliance® Group newsletter from 2005, pledged to receive information of GRC/GDPR/IT- and Cyber Security at one of our conferences, seminars, workshops, downloaded our templates, documents, or have expressed an interest in receiving Governance, Risk management, Compliance, IT- and cybersecurity, data privacy, GDPR issues. To unsubscribe, click here or send email to info@eugdpr.institute  labelled unsubscribe
About us
E-compliance Academy's online seminars are an efficient and effective way of delivering multiregional accountability, creating trust, value and culture. Our online seminars streamline IT processes digitisation, digital transformation and enhances system knowledge. We provide an entire range of Data Privacy, Data Protection, GDPR, CCPA, IT and Data Security, Governance, Risk and Compliance (GRC), Bribery, Fraud and Corruption (BFC), Corporate Culture, Ethics and Integrity (CIS) Corporate social responsibility (CSR), Sarbanes Oxley (SOX), Internal Controls online seminars to maximise your compliance's effectiveness – without compromising cost-efficiency. See the various online seminars here: www.e-compliance.academy/e-seminar-overview/
Need help? Email | Call us +45 2121 0616 | www.e-compliance.academy